CATERPILLAR® Engine Identification
Understanding Your CAT® Model And Serial Number
Identify your Caterpillar® engine with this user-friendly guide.
Caterpillar® Inc., a renowned manufacturer of heavy equipment and machinery, utilizes a unique identification system known as Caterpillar® Serial Numbers. These serial numbers play a crucial role in tracking and documenting the history, specifications, and maintenance records of each individual Caterpillar® machine. The Caterpillar® serial number consists of 8 characters, comprising a combination of alphanumeric characters.   Pre 2002 models: the serial number consists of 8 characters. Post 2001 models: the serial number is contained in the last 8 characters of the 17 character Product Identification Number (PIN). Modern serial numbers begin with a serial number prefix, consisting of three characters, followed by a sequence ID composed of five numeric digits. This unique eight-character code serves as the identification marker for each Caterpillar® machine, enabling precise tracking and reference in various operational and administrative contexts.
How to Identify your Caterpillar® Model & Serial Number.
When looking to buy a replacement engine parts for your Caterpillar®, it is important to know the serial number of your current engine.
ID PLATE (INC. PIN/SERIAL NUMBER): Locate Your CAT® Machine ID plate ID plates (also known as data plates or tag) are usually located on the machine outer frame. Machines can often have multiple ID plates making identification easier.
MACHINE SERIAL NUMBER: Locate your Product Identification Number (PIN)
The Product Identification Number (PIN), commonly known as the machine serial number, can be found on the ID plate.
ENGINE SERIAL NUMBER: Locate the serial number of your engine. This information can typically be found on the engine data plate, located on the left side by the injection pump/rocker arm cover. Engine serial numbers (ESN) are also stamped on the engine block. These plates usually feature the serial number indicated by labels like "serial number," "S/N" or "SER. NO."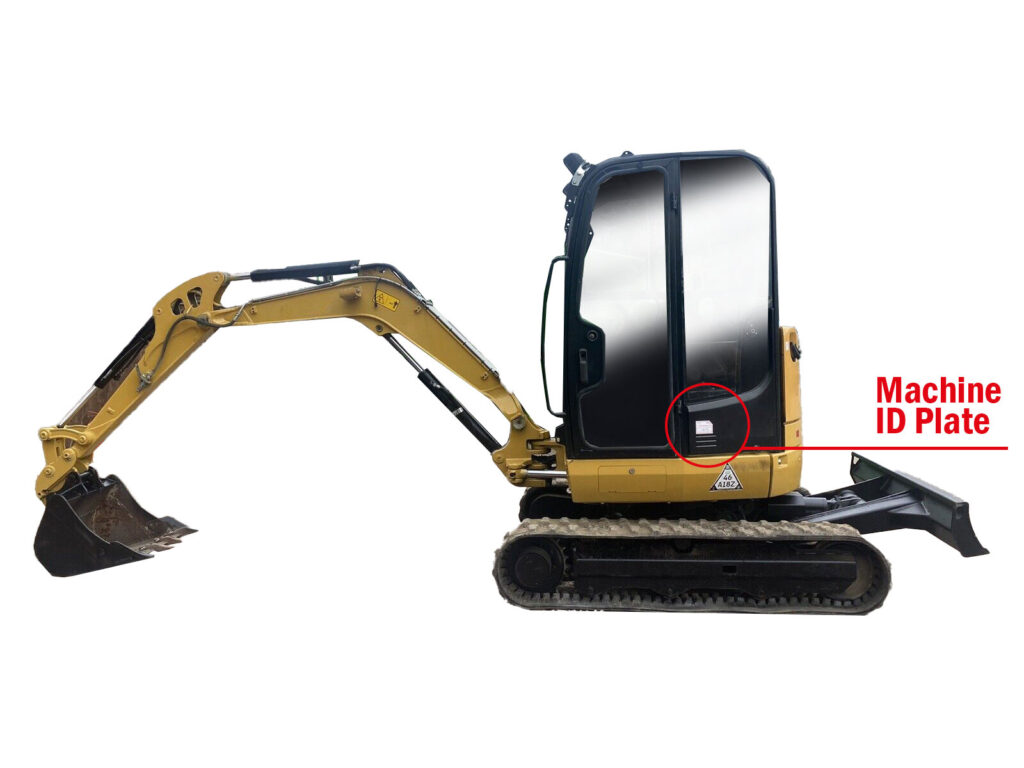 Cat® models manufactured in 2001 and before are equipped with an 8-character Product Identification Number (PIN), which coincides with the machine's serial number. If there are additional numbers the machine serial number is typically listed as the PIN number and the engine serial number is listed as the serial number.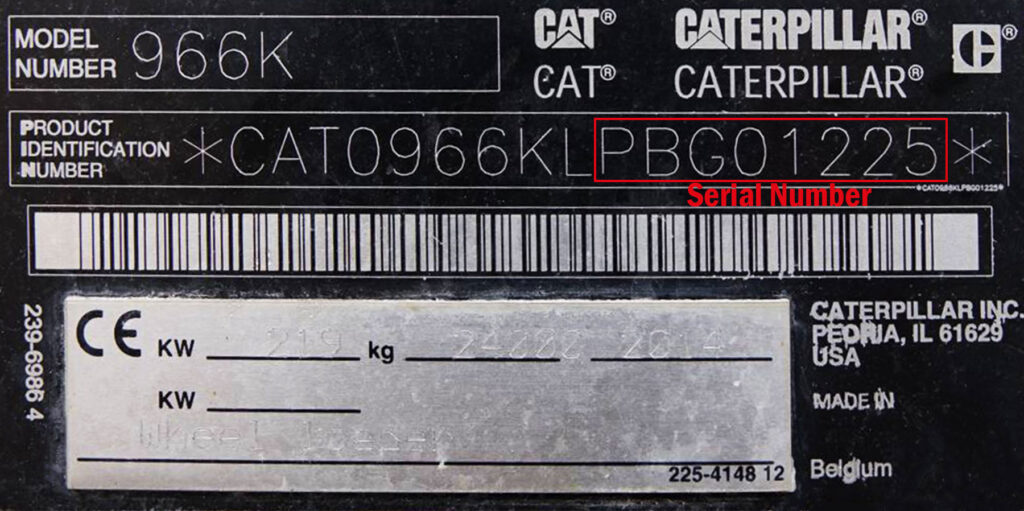 From 2001, Cat® equipment models adopted a 17-character PIN format for the machine plate identification. The last 8 characters of this PIN serve as the serial number, encompassing both the prefix and the sequence ID.<br><br> The serial prefix constitutes the initial three characters of a Cat® equipment's serial number and may comprise an amalgamation of alphanumeric characters. The sequence ID constitutes the ultimate five characters of the Cat® equipment serial number, exclusively consisting of numerical digits. Each sequence ID falls within the range of 00001 to 99999.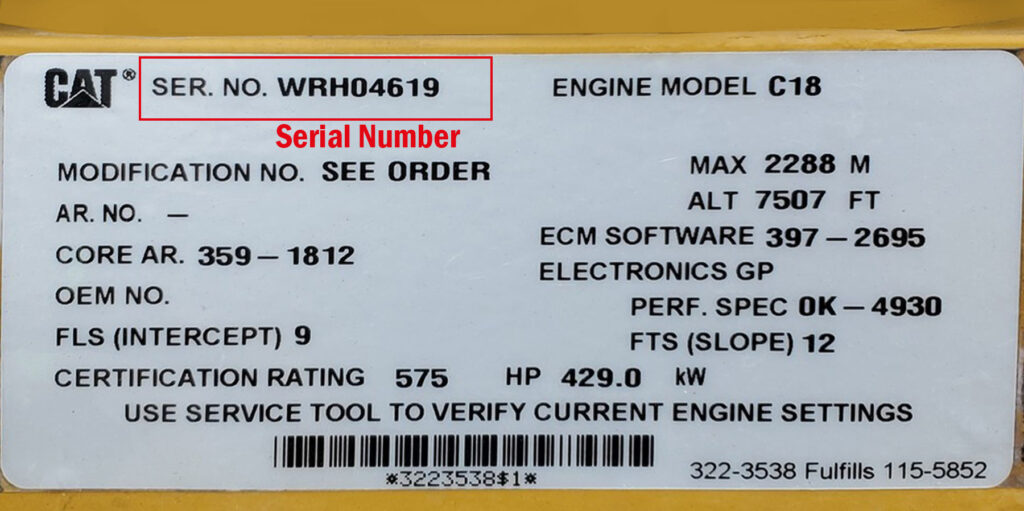 Cat®engines and generators come equipped with serial number plates that typically feature the serial number, often labeled as "serial number" or with abbreviated versions like S/N or SER NO.
Understanding Caterpillar® serial numbers can help equipment owners, operators, dealers, and service providers access comprehensive details about a machine's manufacturing date, factory of origin, configuration, component specifications, and more. This information proves invaluable for maintenance, repairs, and equipment resale. Over the years, Caterpillar® has continuously enhanced and expanded its serial number system to adapt to changing industry requirements and technological advancements. Today, these serial numbers serve as an essential tool for stakeholders in the construction, mining, agriculture, and other heavy industries. Whether you are a Cat® equipment owner, dealer, or simply interested in the intricacies of heavy machinery, this guide will provide you with valuable insights into the world of Caterpillar® serial numbers.
ORDER KMP BRAND REPLACEMENT PARTS SUITABLE FOR CAT® engines:
Caterpillar® engines have earned a well-deserved reputation for their exceptional reliability. However, to ensure your engine operates at peak efficiency, regular servicing and the use of high-quality replacement parts are essential. That's why KMP has developed a comprehensive range of durable replacement parts that offer both reliability and affordability.

We take great pride in the quality of our products – when you choose KMP, you can have complete confidence in the performance and dependability of our parts.

Whether you're a trade professional or a retail customer, we have convenient options for you to purchase KMP Brand products. You can easily order parts through our user-friendly ecommerce store or register for a trade account to access additional benefits.
KMP Brand® is dedicated to optimizing the performance of your machines by offering high-performance replacement parts. Our aim is to enhance endurance, extend the equipment's life cycle, improve serviceability, and minimize downtime. Each of our parts is meticulously designed to cater to specific applications, striking the perfect balance between performance, durability, and cost-effectiveness. You can rely on us to be your trusted source for all your replacement part needs, specifically tailored for Caterpillar® engines.
Want to know about the history of your Caterpillar® engine? Read our blog…
Whilst we strive to provide accurate data, on occasion information may be omitted or inaccurate. Please contact us at sales@kmpbrand.com if you identify an error or omission.