Quality ASSURED -QUALITY department
Why Choose KMP Brand Products: Unmatched Quality Assurance
Discover why discerning customers consistently turn to KMP Brand products. Our commitment to excellence shines through our unparalleled quality assurance processes, ensuring that every KMP Brand part exceeds expectations.
A Wealth of Expertise
At KMP Brand, our Quality Department boasts an extensive repository of meticulously developed and rigorously approved drawings and samples. This invaluable resource forms the cornerstone of our commitment to precision. We frequently consult this repository alongside our expansive OEM Store, guaranteeing that every KMP Brand component adheres flawlessly to specified standards.
Elevating Standards: A Focus on Precision and Reliability
Our exacting quality control procedures stand as a testament to our dedication to excellence. Every single component undergoes rigorous scrutiny to ensure it meets our stringent specifications for reliability. We take immense pride in our ISO certification, a testament to our unwavering commitment to maintaining the highest industry standards.
An Ever-Expanding Portfolio: Innovation in Action
KMP Brand's library of approved designs and samples is in constant evolution, with over 400 parts currently in active development. This dynamic growth mirrors our continuous pursuit of innovation and our drive to offer an ever-widening selection of premium parts.
Precision through Comparison: Reverse Engineering for Excellence
Our meticulous approach to reverse engineering involves meticulous comparisons with OEM counterparts. Each drawing and sample undergoes meticulous evaluation to guarantee that our developed parts seamlessly match OEM standards, setting the bar for performance and reliability.
Mastery of Metrology: Elevating Quality Control
Throughout the development and quality control journey, KMP Brand employs an array of cutting-edge metrology techniques and equipment. Our unwavering dedication to precision ensures that every stage of our development process aligns seamlessly with our exacting standards.
Global Collaboration for Exceptional Results
We maintain close collaborations with a network of esteemed global manufacturers. This global synergy underscores our commitment to excellence at every stage of the development process, fostering a seamless flow of knowledge and expertise.
Choose KMP Brand products with confidence, where precision, reliability, and innovation converge to create a class of excellence that outshines the rest.
The following detail a selection of the metrology techniques and equipment used by KMP throughout the development and quality control process.
CO-ORDINATE MEASURING MACHINE (CMM)
The CMM is used to measure the geometry of our parts using various probes. This machine can measure down to a resolution of 1 micron and is used to measure many parts including pistons, ring gears, crankshafts, camshafts and rollers etc.
This is an example of a KMP Brand Piston Drawing. In order to be approved, this drawing has been compared to OEM. The OEM Piston was measured using the CMM (as seen in the previous slide) and the recorded measurements will have been compared to the drawing. Any corrections needed will have been identified and altered in order to ensure that the drawing is representative of the OEM piston, at which point the drawing can be approved. After approval, a production sample will be manufactured and analysed by the Quality Department to ensure that the sample is in line with the approved drawing on record. Both the approved drawing and sample are now held in our library as a point of reference.
The digital microscope can zoom up to 160x and is invaluable in the measurement of bearing material thickness, coating analysis (piston rings) and failure/crack analysis.
The shadowgraph is used to analyse part profiles and is beneficial in the measurement of valve angles and piston ring profiles.
MECHANICAL PISTON RING TESTER
Ensuring the tension is correct when developing a piston ring is essential within the drawing approval procedure. This allows us to supply piston rings that will function in the same way as OEM.
DIGITAL VERNIER HEIGHT GAUGE
In order to ensure measurements are taken on a flat surface, KMP use a Granite Surface Plate which allows quick accurate readings when using the digital vernier height gauge. This is most used when completing delivery checks.
CRANKSHAFT AND CAMSHAFT ANALYSIS​
To measure the journal diameters of crankshafts and camshafts, multiple readings are taken at different points using a digital micrometer. For an accurate reading, an average is taken of the points recorded. The digital micrometer has a resolution of 1 micron. An engine hoist is used to manoeuvre the larger components to ensure all KMP products are measured.
ROCKWELL HARDNESS TESTER ​​
All hardened components are tested using either a Leeb Hardness Tester or the Rockwell Hardness Tester shown on the left. Once again, multiple measurements are taken in order to ensure the part has been hardened in the appropriate places. The hardness is commonly measured on valves, piston pins, cam followers, crankshaft/camshaft journals, valve seats etc.
Smaller engine parts are measured using Digital Micrometers which have a resolution of 1 micron. KMP have a large selection of this equipment.
Rubber hardness is also an important consideration to make in the development of both gaskets and seals. Rubber hardness is measured using a Durometer.
The latest addition to the KMP Quality Department is our new XRF Analyser, which determines the elemental composition of the material of a part through non-destructive spectroscopy.
All OEM parts can be tested using the XRF Analyser in order to the material specification to be identified. This information can be used in development to ensure that our parts will perform to the same standard as the OEM material.
Any KMP part failures can be fully analysed using the XRF Analyser to ensure that we maintain our high standards throughout our parts.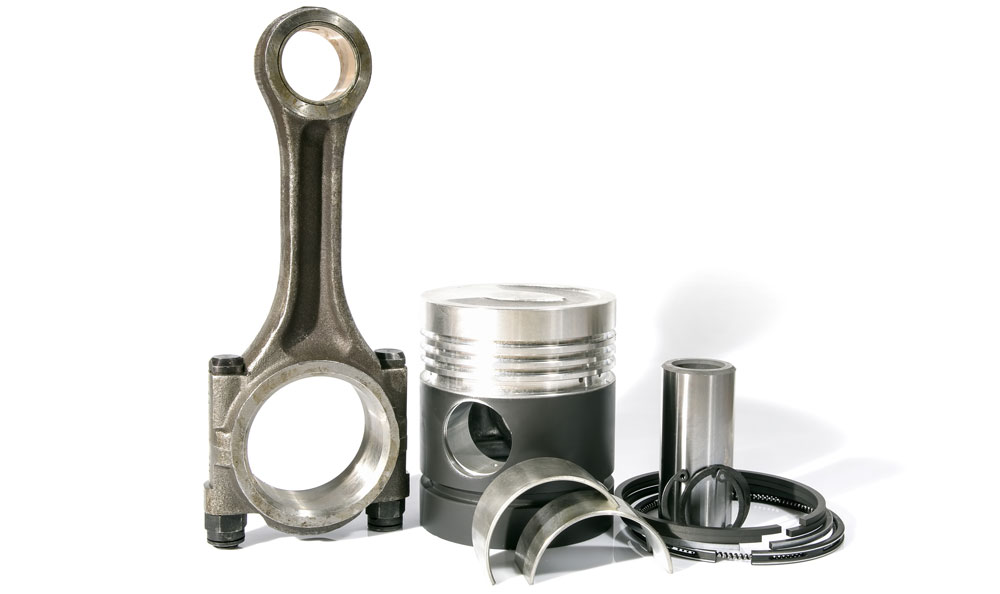 Our knowledgeable and experienced technical support team can assist with enquires about all our parts. 
We are dedicated to the quality of all KMP Brand parts. Since 2003, we have held ISO 9001 certification for the production & distribution of diesel engine components.
We manufacture all KMP Brand to the highest standards, assuring that every stage of the development process results in an affordable product with no compromise on quality or reliability.
The key to delivering quality parts has been an efficient supply chain. With our years of experience and extensive knowledge of the industry, we always ensure that our inventory can meet the growing demand.
The head office and distribution centre is conveniently situated in Chertsey, England. This location provides easy access from central London and is only a short distance from the UK's premier airport – Heathrow. In addition we have subsidiary companies located in the USA, Singapore and Malaysia.