Komatsu® Engine Identification
How to Locate Your Komatsu®Engine Number: A Comprehensive Guide
When it comes to identifying and understanding your Komatsu® engine, the serial number plays a crucial role. This unique identifier holds valuable information about the engine's origin, specifications, and more. In this article, we'll answer common questions related to Komatsu® engine serial numbers and provide insights into their engine types and codes. Please note that engine serial numbers differ from the machine PIN (Product Identification Number) or ESN (Equipment Serial Number).
KOMATSU® MACHINE DATA PLATE LOCATION
| Komatsu Machine ® | Data Plate Location |
| --- | --- |
| Bulldozers | On the frame, on the left, as seen in the direction of travel. OR stamped onto the frame at the rear, on the left, above the tow coupling |
| Crawler Dozers | At the entry to the driver's cab, on the inside, on the left, as seen in the direction of travel |
| Excavators - Crawler | On the driver's cab, on the outside, on the right, as seen in the direction of travel |
| Excavators - Mini & Compact | On the base of the hydraulic arm/boom arm |
| Excavators - Wheeled | On the chassis at the front, on the right, as seen in the direction of travel |
| Skid Steer Loaders | Riveted onto the the rear hydraulic column, on the right, as seen in the direction of travel |
| Wheel Loaders (small, mid-sized and large wheel loaders) | On the front frame on the right, as seen in the direction of travel, behind the front wheel |
Don't Have a Machine Data Plate?
Over time, data plates can accumulate grease and grime, and in some cases, they might even detach. Fortunately, there's a solution – typically your engine's serial number is inscribed onto the engine block itself.
Locating the Engine Data Plate:
The engine number on a Komatsu® can usually be found on the left side of the engine block or a metal data plate affixed to it. The specific location might vary depending on the equipment model.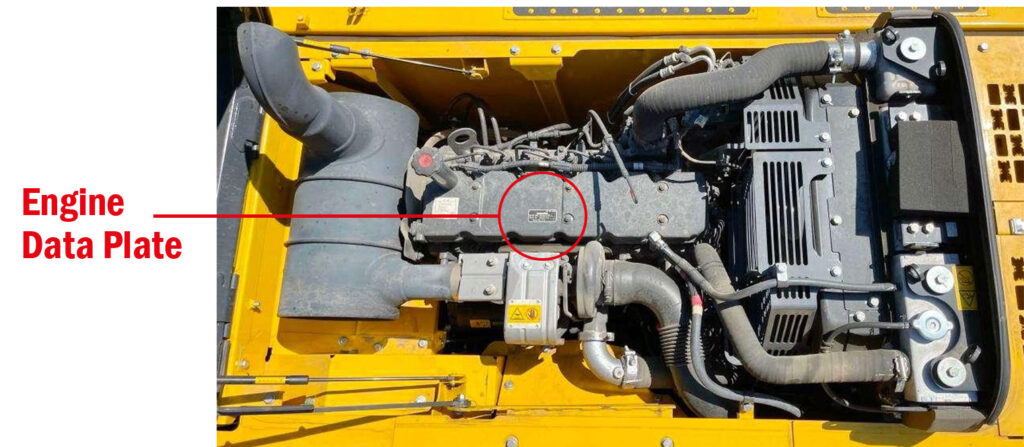 The engine serial number can be found on the engine data plate, located on or near the valve cover.
CLASSIFICATION OF KOMATSU® ENGINE MODEL NUMBERS
How to Read Your Komatsu® Engine Model Number:
A Komatsu® engine numbers comprises a combination of letters and digits. It's usually found on a metal plate affixed to the engine. The number serves as a fingerprint for your engine, providing details about its manufacturing date, production location, and specific model. By decoding this number, you can gain insights into your engine's history and characteristics.
Identifying an Engine by the Model Number:
The model number acts as a unique identifier, helping you differentiate between different Komatsu® engines. This information is invaluable for maintenance, repair, and obtaining the correct parts.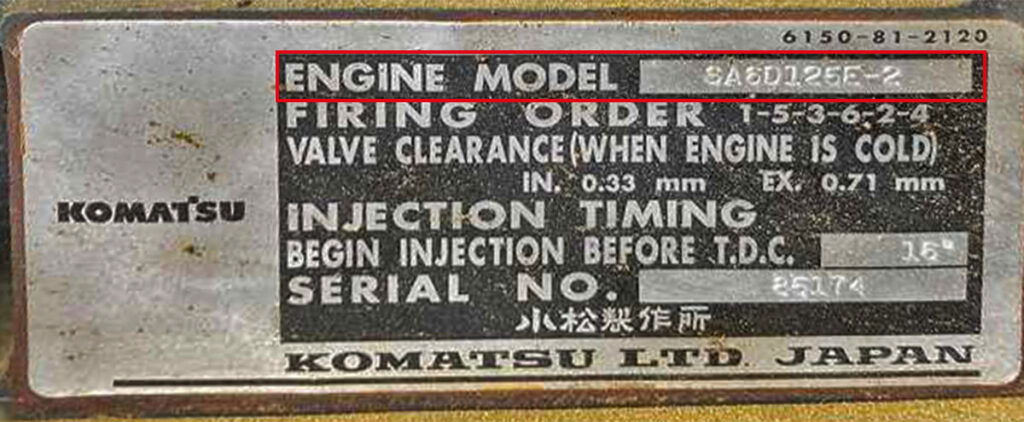 Komatsu® Engine Data Plate
N.B. Yanmar® & Cummins® engine classification will vary.
| Character | Classification |
| --- | --- |
| S | Turbocharger |
| AA or A | Intercooler |
| 6 | Number of cylinders |
| D | Engine type; D=In-line engine |
| 125 | Cylinder diameter |
| E | Low-emission |
| 2 | Stage of development/series |
Types of Engines In Komatsu® Machines:
Komatsu® employs a variety of engines across its equipment range. These engines are designed to offer optimal performance, fuel efficiency, and durability. While Komatsu® manufactures some of its engines, it also partners with renowned engine manufacturers like Cummins® and Yanmar® to provide a diverse range of power options.
Decoding Engine Codes: E15, E10, E11:
Komatsu® engines are often labelled with codes like E15, E10, and E11. These codes denote different engine specifications and functionalities. For instance, E15 might refer to a certain engine series or emission standard, while E10 and E11 could represent specific models or performance variants.
Cummins® and Yanmar® Engines in Komatsu® Equipment:
Komatsu®'s collaborations extend to engine production. While some Komatsu® engines are indeed made by Cummins®, the brand also integrates Yanmar® engines into its equipment, showcasing its commitment to offering diverse and high-quality power solutions.
Deciphering your Komatsu® engine number empowers you with valuable insights into your equipment's heart. By understanding the serial number's significance, you can ensure proper maintenance, swift repairs, and efficient parts replacement, ultimately prolonging the life of your Komatsu®-powered machinery.
Order KMP Brand Replacement Parts Suitable For Komatsu® Engines:
Renowned for their unwavering reliability, Komatsu® engines have solidified their position in the industry. Yet, guaranteeing your engine's unwavering performance demands consistent maintenance and the incorporation of top-tier replacement components. This has led to the development of KMP's range of robust replacement parts, seamlessly blending steadfast dependability with budget-conscious accessibility.
We take great pride in the quality of our products – when you choose KMP, you can have complete confidence in the performance and dependability of our parts.
Whether you're a trade professional or a retail customer, we have convenient options for you to purchase KMP Brand products. You can easily order parts through our user-friendly ecommerce store or register for a trade account to access additional benefits.
KMP Brand® is dedicated to optimizing the performance of your machines by offering high-performance replacement parts. Our aim is to enhance endurance, extend the equipment's life cycle, improve serviceability, and minimize downtime. Each of our parts is meticulously designed to cater to specific applications, striking the perfect balance between performance, durability, and cost-effectiveness. You can rely on us to be your trusted source for all your replacement part needs, specifically tailored for Komatsu® engines.
Want to know about the history of your Komatsu® engine? Read our blog…
Whilst we strive to provide accurate data, on occasion information may be omitted or inaccurate. Please contact us at sales@kmpbrand.com if you identify an error or omission.